15.10.15 - Thank you George Mikell
The Killing Lionel team is sad to announce that due to unforseen circumstances George Mikell has had to withdraw from the project. For the days scheduled during the shoot for Georges scenes, we faced location issues as well as horriffic weather, and because we were working on such a tight budget and schedule we had to make a call to postpone his scenes at that time. We have been in constant contact with George regarding this and after wrapping we still require three pickup days even without Georges scenes. Due to these factors and after much deliberation, a difficult decision was reached by both partys that George would step down from his role and withdraw from acting in the project all together. We are so grateful to him for all the work and promotion he has done for us over the last year and he has stressed that he will continue to help us in any way he can. We as a team would like wish George all the best for the future.
29.07.15 - £1,000 Corporate Video Prize Draw
Tickets are now on sale for our £1000 corporate video draw! We are giving away a promotional video worth £1000, which will be shot and edited by our camera-man Tom Turner of Paramore Productions. Tickets are on sale for £25 each and only a maximum of 150 will be sold. Get your tickets now for your chance of this superb prize. To enter please email killinglionel@gmx.com with your bussiness details, payment can be made through the website. Please click here for full Terms & Conditions.
29.07.15 - Sally Thomsett Update
It is with great sadness that, due to other work commitments, Sally Thomsett will no longer be a part of the Killing Lionel project. It has been a pleasure working with Sally for this brief period and we wish her all the best for the future.
23.02.15 - Carly Barnes is our new "Peaches"
After one of the toughest decisions ever and the tearing out of many hairs, the role of Peaches has finally been re-cast. It is with great pleasure that we welcome Carly Barnes to the project.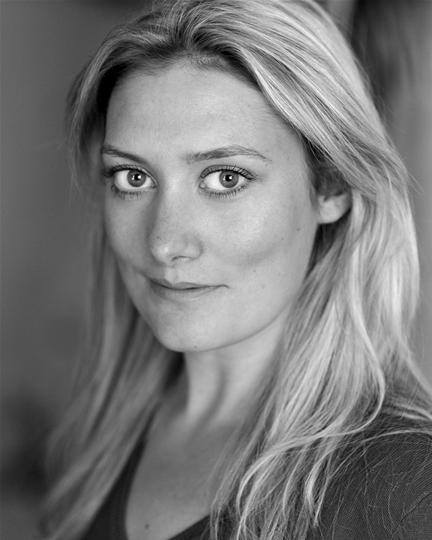 05.02.15 - An Evening with George Mikell
Ok folks here it is, our next fundraiser:

'An evening with Mr George Mikell'

This will be held in Holsworthy Memorial Hall on Thursday 19th February. Please do try your best to attend, as this promises to be a fantastic and very interesting event. Tickets are a steal at only £7 each and are on sale in the White Hart now! We have plenty of room, so please bring family and friends. Telephone Jon ...on 01409253475 to reserve your place.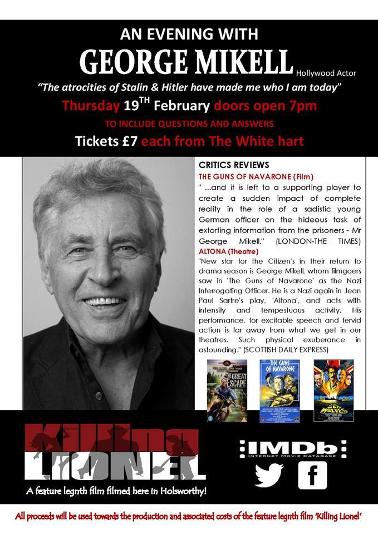 20.12.14 - Poker event raises £160!!
A great turn out for our second fund-raising event yesterday. A festive game of poker saw us raise £160 towards our target! Thank you to everyone that attended and as ever John Hutchings and family for hosting the event.
03.12.14 - Quiz Night a great success!
Big thanks to everyone that attended our first fund-raising event on Saturday evening. It was a great time and from the quiz and raffle we raised just over £263. A big thanks to Jon Hutchings and family of The White Hart Hotel for staging the event and helping us run a fantastic night. More events are in the pipe-line, so please keep an eye out for them. And once again, thanks to everyone that is helping to make this happen.
19.11.14 - Killing Lionel now a LTD Company!
After registering 'Killing Lionel' as a LTD Company a trip was made to see the Bank Manager last week to officially open our account for business. Any monies raised/donated will go into the Killing Lionel LTD account and will be transparent to see for everyone involved. This is important and keeps this all above board so you know we aren't sunning ourselves up in the Caribbean at everyone's expense ;)
12.10.14 - Quiz Night @ White Hart Hotel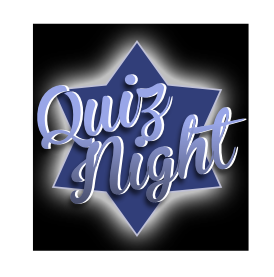 A Quiz Night is taking place at the White Hart Hotel, Holsworthy to help fund the project on 22nd November 2014. Teams of 6, £5 per member. There will be prizes up for grabs!! Contact Jon via the White Hart website for more information.
09.10.14 - IMPORTANT MESSAGE: A scheduled audition day for extra's as advertised in the Holsworthy Post has been cancelled and will be reorganised for another date TBA. Sorry for any inconvenience caused.
01.10.14 - Killing Lionel Pitch Video goes live!
23.09.14 - Hot off the Press!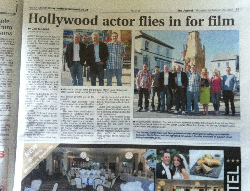 22.09.14 - Press / Media Day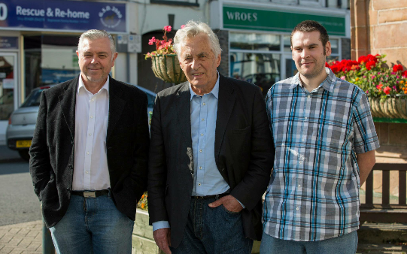 Our media day went off without a hitch yesterday, with our cast and crew assembling for questions and interviews from the local press. It was a great opportunity for us to get the project out there, and also for everyone to meet up and familiarise with each other even more.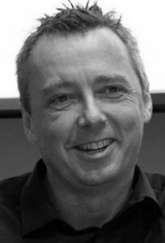 10.09.14 - Academy Award Winner joins the crew! Confirmed as aerial photographer for Killing Lionel is Hollywood Academy Award winner Gifford Hooper. This is fantastic news and we are delighted to have Gifford on board with us, his work speaks for itself and we are very much looking forward to working with him
DIRECTORS BLOG! By Tim Thorne
20.02.16 - Where has the time gone? It's just been busy, busy busy here! The film has now been edited with a final cut very nearly settled upon. We still have one or two inserts/establishings to grab, before we move the project into sound design and music. Our deadline for the completed project is mid March, we are on track but the pressure is well and truly on, that's film-making for ya, and I wouldn't have it any other way :) Also I have recently finished my next script which will enter pre-production very soon, so we get to do this all over again haha:) As always thanks for your interest and on-going support - Tim
15.10.15 - Its a wrap! Wow I can't believe it, the shoot has absolutely flown by. And what an incredible month it has been, working with some absolutely awesome and hugely talented people. The main set being at my actual house, meant we ripped my front room apart creating the squalor that the main characters lived in! We also had to dig up my back garden in order to bring the epic final scenes to life! The second location Holsworthy saw us film in and around the town as well as landing some absolutely awesome interiors from Pub landlord Jon Hutchings, property owner Matthew Nute, Matthew Dennis and the local corner cafe owned Nick Cousins, thank you so much everyone for letting us in your properties to shoot. We still have three pick-up days left to gather the remaining bits of footage, and once this is done, it's off to the edit. I can't express how grateful I am to everyone for helping me realise my vision and bring the project to life, it has been an absolute pleasure. Over and out for now :)
14.08.15 - Well it's official, Killing Lionel will be shot from 14th September 2015 onwards, the shoot is expected to take 1 month and a detailed schedule is being finalised at the moment. We had a superb cast and crew meet-up on the 24th July, with final preperations being put into place for the set and costume design along with a full read-through with all of the main characters present. Our last location was finalised last week which is a great relief seeing as we're only 5 weeks away from shooting! There's still a tremendous amount of work to be done, and not a day goes by without myself and the team being in contact trying to resolve something that needs sorting! I'll try and get another blog entry in just before we commence, but please do keep your eye on the facebook page for regular up-dates. Thanks everyone - Tim
03.06.15 - Can't believe it's been 3 months since my last post, sorry for the lack of up-dates folks it's been pretty hectic here. Since the shoot, we have successfully released the trailer, which can be found on youtube as well as the website, and we're now assembling the final members of the cast and crew to enable us to shoot later this year. We had a tremendous response to our call-out for the role of Dr Oldcorn (jnr) and after much deliberation we decided that Max Brandt was the best man for the job. Design work is being done on the costumes and sets, as well as the construction of the storyboards and detailed shot listings to enable us to bring this picture to life to the highest standard possible. Keep your eyes peeled for more developments folks, thanks as always for your on-going support. Tim
26.02.15 - A teaser trailer for Killing Lionel was successfully shot on wed 18th Feb. It was a tough 10 hour shoot, and a great effort by all of those involved and some fantastic footage was obtained. This will be hitting your screens very soon! All the pictures for this can be found on our facebook page here
05.02.15 - Well, It might seem like things have gone a bit quiet lately but the team have been beavering away in the background! I have just written a short script for the new teaser trailer, which we will be shooting very soon... Exciting times ahead! Thanks for all your continued support, we really do appreciate it.
17.11.14 - We've had a great response for our first fundraising event but we still have a few spaces left. please get in touch and register your team today! The night will also include a raffle with some signed TV and Film memorabilia!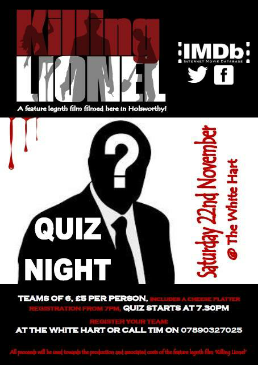 30.10.14 - Another good production meeting today, saw us really start to structure our fund-raising events for the next few months. Our aim now is to shoot in April 2015 and we have lots going on in between now and then.
29.10.14 - Coming to a shop window in Holsworthy near you! 'Peter Peter & Wright' to be precise. This montage was designed and constructed in order to help 'Killing Lionel' gain more awareness around the town.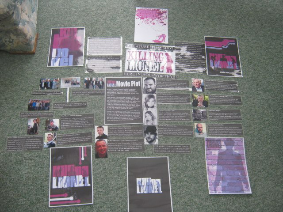 12.10.14 - Thanks! To everyone that is helping us out by liking and most importantly sharing. It really is making a difference and the project is getting about. The donations are slowly coming in, if you haven't hit that sacred 'Donate' button yet, we have some awesome rewards from as little as £5! Every little bit really does help us out. Thanks - Fundraising & Investment
11.10.14 - Well, the new updates page is up and running... please check back regularly for news and features about the Killing Lionel project.